Last year I started on my search for the perfect ankle boots. Ones which you can wear with a dress and ones which also take well to having a pair of skinny jeans tucked in to them. I found them with my Carvela Spoken suede boots. I love the slightly blocky heel and the ultra soft suede. I think of them as a kind of cheaper APC alternative which I can't quite stretch to.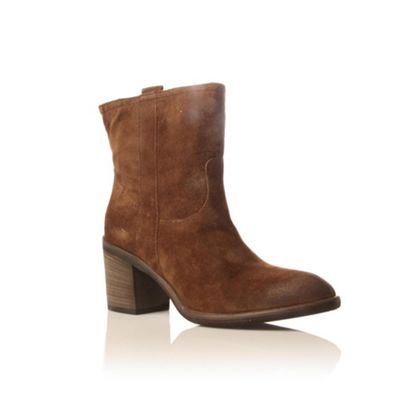 I still love these boots and they are infact my favourite but then I read too many blogs and too many magazines proclaiming the loveliness of the Isabel Marant Dicker boots. And I am a slave to suggestion so this was followed by the purchase of a pair of Office Namesake boots.
I saw them on the Office website and they didn't have my size online so that set me off. If something's not available that makes me want them more. No rational reasoning, just the basic law of supply and demand.
As luck would have it, I had to meet the Grump Meister for lunch and I had literally 5 minutes before I met him to march into the Office store in Leeds, locate the boots, ask for my size, try them on and hand over the card. And there is a no returns policy - only exchange. Gulp. No changing of minds this time. But I am very pleased with them. They have tones of the Dickers without being exact copies and the soles look to be a little thicker making them a little more dare I say it - "comfortable". And the slight distressing on them means I don't worry about small people stamping on my feet. They are the perfect "summer" boot. Nice with boyfriend rolled up skinnies and a pretty cotton blouse.
And the Grump Meister did smile ever so indulgently at me as he saw me coming along swinging my shopping bag and said "you knew exactly what you wanted didn't you?"