So I was waiting for it to hit December before getting a little festive around the edges. I never used to make much of Christmas but once you have children, it becomes a whole different ball game. Christmas is a big thing for small people and who am I to disappoint? And now we're getting festive, this gives me license to post this picture :
This is how we decorate the outside of the house. We really let rip and go to town. It costs us an absolute fortune but it's worth it because the boys absolutely love it and we have lots of people who stop outside just to have a nosey. I know it's not to everyone's taste but it actually makes me really happy because it really is full of Christmas cheer.
I had you going for a minute there didn't I? I profess to making no effort outside our house except for the obligatory wreath on the front door and a few lights in the window. This is a picture I took last week when I passed by the Christmas house. The Christmas house is sited at the other end of the village and each year, it sets up this extravaganza for all to enjoy. Some may find it an eyesore and though I tend to like my decorations a little more monochromatic and subdued, I like to stop past this house and take in the spectacle. The people who do this put an honesty box outside so they can collect for the MacMillan Cancer Trust. Last year, when we went, the honesty box wasn't there. It had been emptied of the donations and there was a note to tell us of such. I have to admit, I was quite saddened to know that there were people out there who could carry out such a mean spirited act. The honesty box is back this year - I hope that there is no repeat incident.
-------------------------------------------
Now that we are officially in December, I think it's time to think about the sequins and sparkles which many people will gladly be adorning for their Christmas parties or for Christmas day. I think this is the week when I turn in to Susie Sparkle and see what I have in my wardrobe. I confess to being a little frugal around the old evening dressing up mullarkey. I hate to buy a dress or an outfit for one off occasion and know that it is unlikely to see the light of day again after the event. If I splash out on a dress these days, it needs to have longevity.
Last year, I bought a dress for a friends 40th birthday do. I figured it was time for a new evening going out dress after a three year drought and I'd just gone to a party where I was in jeans and all the girls were in little sparkly dresses. Time to up the game. I settled on this one after trying on many, returning many and cursing many. It has sequins - I'm not normally drawn to sequin dresses but these were a little more unusual as they're rectangular and I liked the bronze tones. I can't actually remember how much the dress was but whatever it was, I thought it was worth it as it's a dress I can drag out from year to year for any number of occasions ... and it's comfortable.
Monsoon Bronze Sequin Dress (old)
Sequins feel a bit funny when you sit down though.
This is the dress that masks all evils. It has sleeves to cover bingo wings and it also means you don't need to find a jacket or cardigan or shrug to stave off the cold. It's a respectable knee length for those who don't like to show too much leg. I confess that I would wear a belt masqerading as a skirt right now if I had the legs for it but I don't, so just above the knee works for me. It has a sequin thing going on which tells you this is a going out dress and it is a polyester chiffon which means it doesn't crease. Polyester chiffon doesn't sound great but it means you stay crease free .... all night. And did I mention it had a little drawstring waist tie which you can loosen as your girth spreads over the course of an evening, after you've had a feast? My friend loved it so much after she saw it on me, she went and tried it on in the shops and bought it too. She's curvier than me but of all the party dresses she had tried on, she found it so flattering, she couldn't not buy it. This is the dress for all shapes.
Cold or warm? With or without?
Hard call this one - bare legs or opaques? I would wear with opaques on the grounds that I hate cold legs but that's me - nesh. Digging around, there aren't many sleeved dresses which fit my criteria for a good dress. In fact I'm really glad I'm not looking for a dress this year - I'm really struggling with the offerings out there. The short sleeved ones hit at a point on the arms I don't like and leave me cold literally. Some are too figure hugging - I like to eat but I don't like peoples eyes to linger at the old bagel belly after a fair blow out and I don't like too much cleavage - hey I'm just an old prude and my below choice for an evening going out dress proves it. This one by Boutique by Jaegar looks like it might pass my checklist though there are no sparkles (which I don't mind one bit - I almost prefer actually) and if I had to buy a dress this year, this would be one I would be making a note to have a look at. I think I would like to wear this with a pair of smart lace up ankle boots to make it a little funkier. I see this one as a "less is more" dress.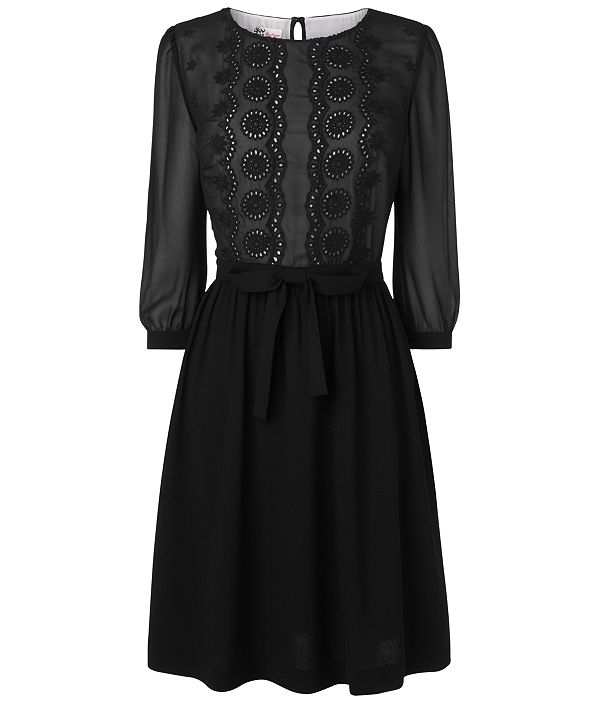 Have you got your party dress sorted? Are you a Susie Sparkle or a Prudence Prude? I guess I'm a bit of a both looking at my dress. A Sue Prue.