I'm trying to wear sweatshirts more ... to stop me wearing a fleece ... and looking too suburban and middle-aged. My regular fleece is grey, plain and inoffensive. A little like me. It's not brightly hued or candy striped and it doesn't have cute mismatched buttons and colourful trims ... for which I'm thankful as I think they should be left to the under 10's. But my grey fleece is not really up there in the fashion stakes is it?
So I have decided that sweatshirts are the way to go .... for now.
I do actually have a few sweats hanging in the wardrobe but I wanted one which was a little more exciting. A little bit more fierce. A little bit more like this tawny little Zara number. Grrr.
Now Zara have this listed as an animal print sweatshirt - why they didn't just say tiger print, I don't know. Even the Grumps said "Hello Tiger" when he saw me in it. He also asked "What are you wearing?" which always gets the hackles up and I go on the defensive snapping back "Why????" "It's not your usual sort of thing". "Does it look bad or strange?" "No, it's different". "Different good or different bad?" and then the man started to look scared and we thought it best not to continue this line of questioning. I honestly think he would have said less if I had worn a candy coloured fleece with mismatched buttons and trims.
For a change, I've decided to get out my black Topshop Ambush boots aka the Acne dupes.
Topshop Ambush Boots (old)
I love and hate these boots in equal measure. For some reason, I look rubbish with skinnies tucked in to them (something to do with not having model proportion legs) and they don't always look right with the boyfriend jeans either. These are just about looking okay with the Jack Wills jeans with turn ups .... today.
Zara Animal Print Sweatshirt
But I prefer the jeans and sweatshirt with the good old Office Namesake boots. For some reason, they soften the look for me and I feel more comfortable with these.
Not as "fierce" but I like it.
And then I donned the "Del Boy" jacket, w
hich I bought in an ASOS sale after missing out on the Topshop version a couple of years back.
Which has more than a little nod to the Seventies.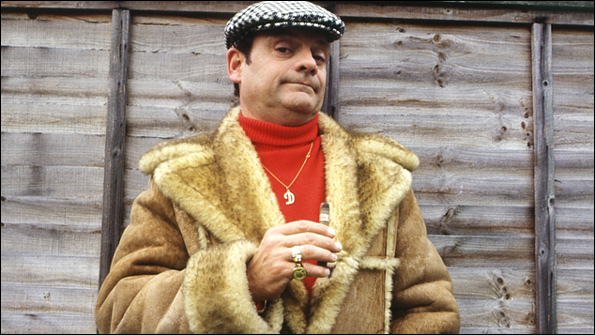 Style Icon : Del Boy Trotter
Bearing in mind that Del Boy Trotter should not really be revered as a Style Icon, I came across this second picture of Keira Knightley which may serve to put your minds at rest that I've not totally lost the plot.
Photo Credit : fashion telegraph.co.uk
If it's good enough for Keira - it's good enough for me!
And even if I do say so myself, that's a pretty nice look from Keira which I shall park in my bank of looks to copy. I may work that look in a future post - then again I might not.
And now, I have a question and it's about the details. Which do you prefer? The outfit worn with the black boots or the tan boots? And why?